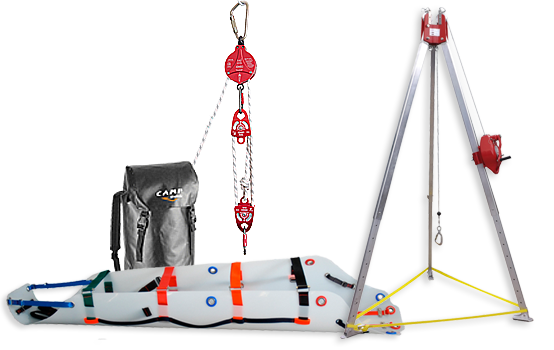 Rescue Equipment and Evacuation Equipment
Devices for the lifting of persons and rescue, which are integral parts of a fall protection program, are used to raise or lower a distressed worker to a safe level, or be used as a lift for up and abseiling in the operation of such enclosed spaces as wells, tanks, etc. Rescue and recovery are critical parts in an emergency situation. Can they handle the task quickly and efficiently it often means the difference between serious injuries. Fact is that the longer a worker remains suspended or trapped, the worse the damage. The choice of rescue and evacuation equipment depends on the workplace, task and available trained personnel.
Rescue Basics: The best method is if it is possible to reach the victim from distance. In some industries, the local emergency services can do the rescue, but it is no longer allowed, so there should be rescue equipment and trained rescue personnel on site. If rescue requires descent to the worker in distress, there should be a secondary independent back-up such anfall arrest block that is totally independent of the primary rescue equipment.

Rescue in confined spaces: Confined spaces, such as vaults, tanks or wells is one of the most challenging of rescue situations. Confined spaces and openings can provide rescuers trouble accessing. While usually these situations often involve problems with inadequate ventilation or noxious air that make immediate rescue necessary. A person without oxygen for four minutes will die or suffer brain damage. Due to the critical nature of such rescue, the efforts is sometimes badly planned. Two-thirds of deaths in confined space rescue affects those who actually doing the rescue. The right equipment and training to perform quick, safe rescues is essential when working in confined spaces. Our rescue equipment is engineered for perfect performance in critical situations.

Important: in all situations with use of fall protection equipment, the employer MUST ALWAYS have a plan on HOW to rescue a person in distress! To rely on the emergency services are NOT allowed due to long call-out. Time is crucial!