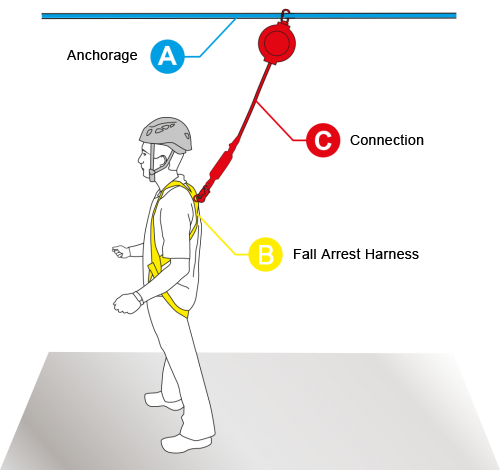 A – Anchorage
The anchorage point must withstand at least the load specified in the connection (C) user manual. It can be 9kN, 10kN, 12kN or even 15kN. To be sure that an anchor point is approved for all connections, choose one that is certified according to the European standard EN 795. EN 795 always meets the strictest requirements.
See our anchor points here.
EN 795 is also prerequisite to CEN/TS 16415:2013; which is a certification that allows an anchor to be used by more than one user at a time.
Note: The EU has decided that only temporary anchor points EN795 are counted as personal protective equipment, ie Type B and E, and these must therefore be CE approved. This means that all permanent anchor points EN795 Type A, C and D can not be CE approved as it is not counted as personal protective equipment but is considered to be part of a structure / building. There will be a new standard for permanent anchorages, EN 17235, but when it will become official and come into force is not yet clear.

B - Fall Arrest Harness
The fall arrest harness (also called full body harness) provides the necessary body support with straps attached around the user and, in case of a fall, distributes the energy over the upper thighs, the loins, the chest and the shoulders. The attachment point for your energy absorbing connection should be in the D-ring on the back or chest. The attachment point for the positioning lanyard may be on the waist. Whether you use the harness four or eight hours a day, it must be fitted correctly to provide protection and comfort. Harnesses with quick buckles are always preferred as it is quick and easy to put on. Harnesses with padding on the shoulders, legs and hip distributes pressure and gives the worker greater comfort during hours of use. Falling and hanging in a fall arrest harness may cause suspension trauma, which can lead to serious injuries and even deaths.
Read more about suspension trauma here.
C - Connection
The connection is installed between your fall arrest harness and the anchor point. Without exception, an energy absorbing connection shall be used where there is a risk of falling. In case of a fall, the forces on the body must be limited, thus all connections used in fall hazard environments must be equipped with an energy absorbing function that reduces the arrest force to a maximum specified in the EN-standard. Common examples of energy absorbing connections are fall arrest lanyards, fall arrest blocks and fall arrest kits on rope.
When using connections horizontally, connections specially certified for horizontal use and sharp edges are required.
Read more about sharp edges here.

D - Rescue
Rescue requires knowledge and equipment suitable for the task. When possible, rescues should always be performed from a distance, it is always the preferred method. Rescue is an essential feature of your fall protection program, and there must be rescue equipment and trained personnel in place to handle the task. Rescue equipment is a critical part in an emergency situation, and is used to hoist up or down a person. If you manage the task quickly and efficiently, it often limits very serious injuries. The fact is that the longer a person is hanging in the harness or is stuck somewhere, the worse the damage tend to be. The choice of rescue and evacuation equipment depends on the workplace, type of job and available personnel.
Certifications EN 341:2011
Type 1: Automatic descender device with a breaking system that does not require an intervention by the user once the descent has commenced.
Type 2: Manually operated descender device with a breaking system that requires an intervention by the user.
Class A: Descent energy W up to 7,5 x 106 J.
Class B: Descent energy W up to 1,5 x 106 J.
Class C: Descent energy W up to 0,5 x 106 J.
Class D: For only one descent. Descent energy depends on the maximum descent height and the maximum rated load.
See our rescue equipment here.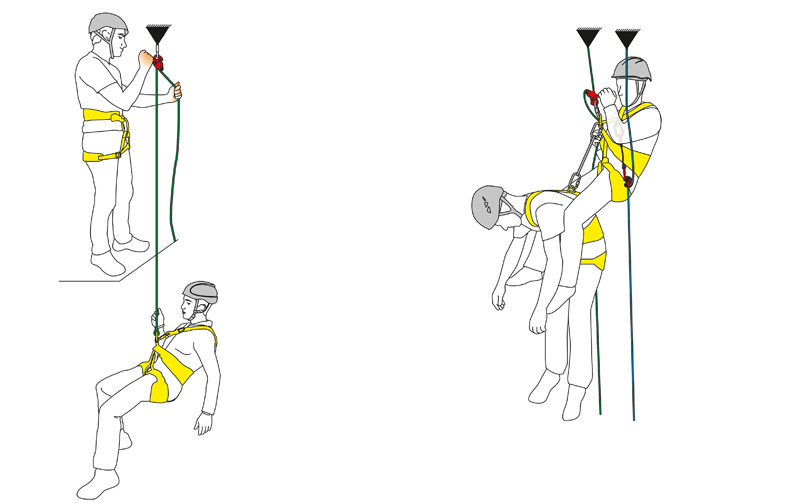 Rescue in confined spaces
Confined spaces are one of the most demanding rescue environments. Lack of space and complicated openings can give emergency workers problems to access. At the same time, such situations also involve problems with insufficient ventilation or hazardous air that requires immediate rescue. A person who is without oxygen for four minutes usually dies or suffers brain damages. Because the rescue type is so critical, the attempts to rescue are sometimes poorly planned. A large portion of deaths during work in confined spaces are directly related to the lack of proper rescue equipment and/or rescue training. Proper rescue equipment and relevant training are absolutely essential in order to safely perform a quick and effective rescue operation.
See our products for rescue in confined spaces here.
See our courses here.
Make sure that there is a rescue plan when using fall arrest equipment
Falling and hanging in a fall arrest harness may cause suspension trauma, which can lead to serious injuries or even death. It is therefore of the utmost importance that there are pre-planned procedures for how a quick and safe rescue operation should be carried out.