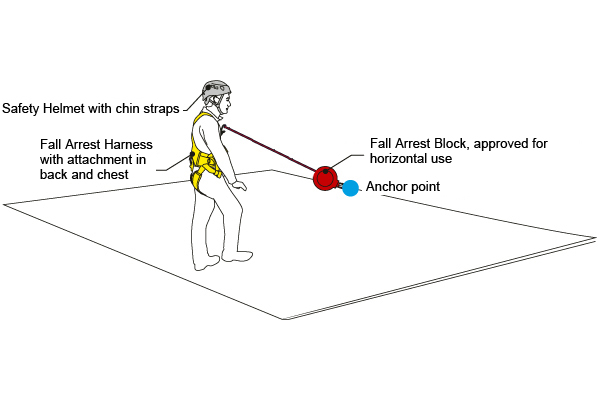 Important information

Even on flat roofs, you should be connected to a fall arrest system if work is done within 2 meters from the edge. Using fall arrest is always recommended due to the risk of falling through a hidden roof window, or slipping and sliding over the edge. The correct use of a retractable fall arrest block allows optimal freedom of movement and safety when working on roofs and terraces. The fall arrest block must be certified specifically for sharp-edges, to prevent the lanyard/cable from cutting in the event of a fall over the edge. During work near the roofs edges, there is also a risk of falling which may result in a dangerous pendulum fall.

Components within the image
Appropriate training
Rescue and evacuation

When working in environments where there is a risk of falling, a rescue plan, rescue equipment and personnel trained for rescue is required. We recommend Rescue Kit Druid for rescue from roofs.
Recommended by us: