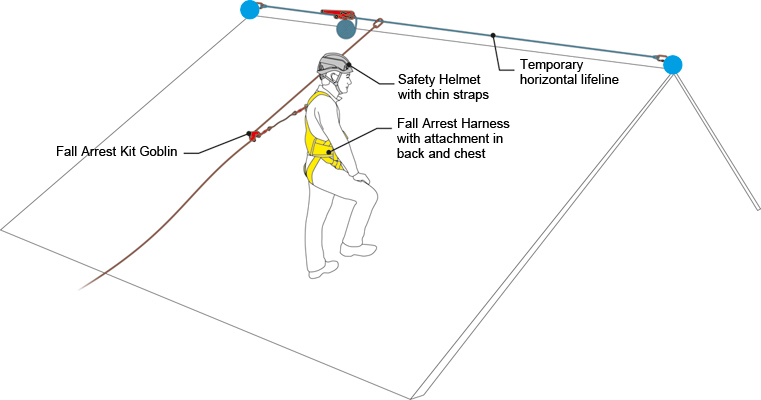 Important information

On roofs and terraces, horizontal lifelines (which can be permanent or temporary) or individual anchor points can be used. For mobility and safety while working, a fall arrest kit can be used. This will allow the user to move freely and in the event of a fall, the rope grab device intervenes, stopping the fall. Near the edges of the roof/terrace where there is a possibility of falling and consequently a potential for a pendulum fall, an extra anchor point must be used for the fall arrest rope to prevent falling over the edge (see middle image below). Alternatively an additional safety lanyard must be connected to anchor points that are in a position to prevent a dangerous a pendulum fall.
See all of our kits for roofs.


Always work with the rope stretched, and make sure that the anchor point is placed in a way that prevent you from falling over the edge where you can get a dangerous pendulum effect.





Components within the image
Appropriate training
Rescue and evacuation

When working in environments where there is a risk of falling, a rescue plan, rescue equipment and personnel trained for rescue is required. We recommend Rescue Kit Druid for rescue from roofs.
Recommended by us: