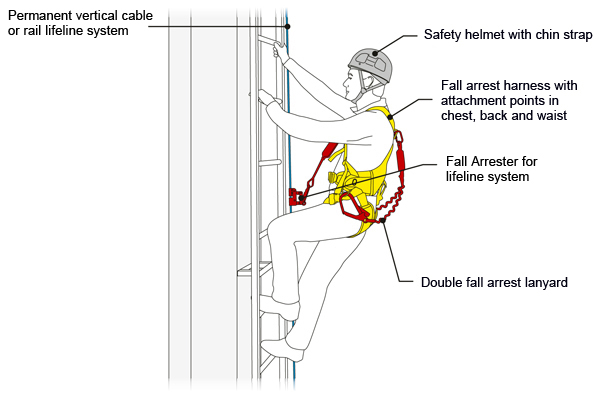 Important information

In order to perform service and maintenance in the machine house, climbing ladders may be required, which means extreme physical stress and risk of falling. If high altitude work occurs, the worker must have gone through medical examinations and must be able to work at high altitudes, have proper training and have sufficient knowledge and be suitable for the task. High altitude work is defined as work over 13 meters above the lowest point on the ground or deepest point of any pits of which the worker may fall into. There is also a risk when a rescue hatch is being used for rescue operations or for hoisting up materials and equipment. High altitude work should normally be done in daylight. If high altitude work is to be carried out in the dark, adequate work lighting should be provided. Working alone is not allowed during high altitude work. The prohibition of performing high altitude work alone means that your work-colleague must meet the requirements for high altitude work and immediately be able to perform a rescue from heights. Wind turbines are usually equipped with ladders, and these are in most cases equipped with a permanent vertical cable or rail lifeline system. On these lifeline system, you will use a fall arrester that follows you as you climb, and locks instantly in case of a fall. If lifeline systems are not available, a double fall arrest lanyard must be used when climbing. In addition, we recommend a positioning lanyard for work positioning.

Components within the image
Appropriate training
Rescue and evacuation

The natural difficulty of accessibility in wind turbines poses some extra risks. It can be difficult to quickly rescue someone, should an accident or other acute emergencies occur. Fires in wind turbines can also occur due to lack of maintenance or lightning strikes. An excellent equipment for rescue in wind turbines is Rescue Device Derope UP A.
Our recommendations: