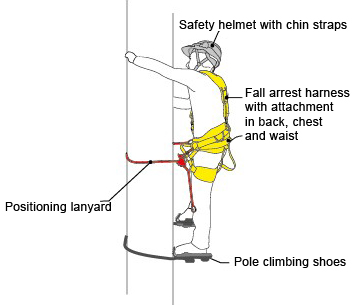 Important information

Working on poles can be physically demanding and risky. In addition to the problem of poles exposed to rot, the worker must also be able to handle hard weather and wind. In addition, every worker must be able to evacuate both himself and others. Climbing is done with approved pole climbing shoes, made specifically for wood poles, composite posts or both. It is important to use a fall arrest harness that provides a good back support, is comfortable and has the required attachment points. For the actual climbing and positioning on the post and/or poles, you will need a positioning lanyard suited for this type of work.

Components within the image
Appropriate training
Rescue and evacuation

When working in environments where there is a risk of falling, a rescue plan, rescue equipment and personnel trained for rescue is required. We recommend Pole Rescue Kit D2 for rescue in poles.
Recommended by us: