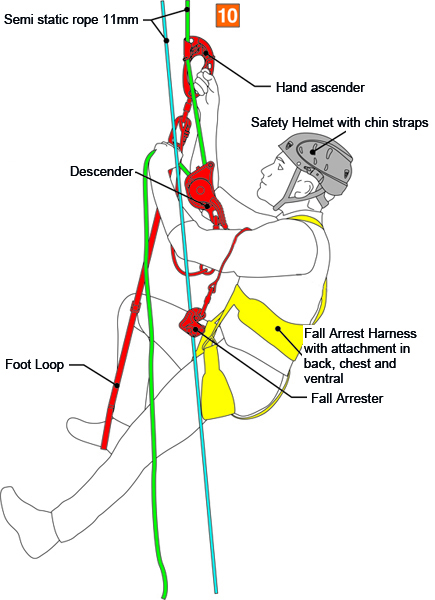 Important information

Rope access techniques allow workers to operate safely and quickly in advanced situations involving work at heights. For rope access a working rope is used for movement (to be used for ascent and descent via ascenders or descenders) combined with a safety rope which, with the use of a fall arrest device, stops any fall caused by failure of the working rope or by human error. Since the user is suspended for the majority of the time, a comfortable fall arrest harness must be used and it should be certified in accordance with EN 813 and EN 361 standards. For work carried out entirely in the air, the use of a rigid seat is suggested. If the user is suspended and needs to climb for short distances, the worker can use a descender which also allows climbing, combined with a handled ascender and a foot loop. This combination allows the user to go easily and immediately from the descent configuration to the ascent configuration and vice versa. This must always be combined with a fall arrest device on the safety rope.

Components within the image
Appropriate training
Rescue and evacuation

All work at high altitude requires equipment for rescue and evacuation. In Rope access, every worker must be able to evacuate both himself and others with the standard work equipment. In this case, all equipment for descent and securing must be approved for use by 2 people. In some situations it may be good to have a separate rescue kit, for example Giant Pro.
Recommended by us: